Longboard Premium Soffit and Siding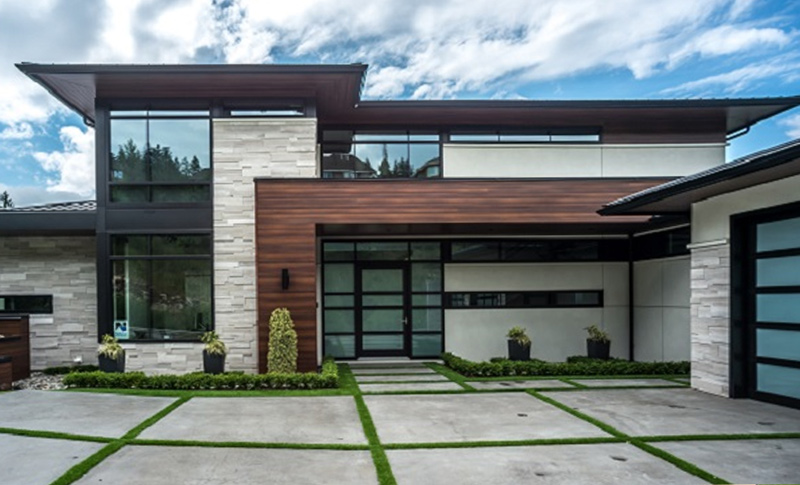 Change the Face of Architecture™ through innovation, sustainability, and quality.
Longboard® cladding, soffit, and interior products are premium architectural-grade aluminum systems commonly used for contemporary residential and commercial projects. With options for woodgrain, solid color, and specialty finishes, Longboard® has become a standard alternative to natural wood cladding materials such as cedar and is widely used in new building and renovation projects.
Using a high-performance powder coat finish, this beautiful material can provide a natural wood look and lifetime maintenance-free durability. Other benefits: Longboard® is non-combustible, which adds safety to your installation. It is also fire-code compliant and impervious to insects and other pests.
Longboard® is offered in thickness of 1.57-1.78mm and in a variety of 4'' or 6'' exposures. For siding of exterior walls, you can choose between V-Groove, Channel, and Smooth profiles in 24 ft long pieces with a trim/reveal system (inside and outside corners, j-channels) from matching coated aluminum to achieve a beautiful, modern yet timeless look.
Longboard® cladding is often considered the highest quality product to achieve the appearance of natural wood. It can highlight a contemporary style or help maintain a traditional look on a home with zero upkeep costs that other wood siding materials require.
Gallery
Why Longboard?
Full testing documentation, BIM library, and live technical support
Rapid sample fulfillment
Products designed for simple, efficient installation for enhanced profitability
Well-documented installation guides and installation videos
Most products ship within 3-6 business days
Material takeoff lists and shop drawings
Products designed to stand the test of time
No maintenance
Energy code compliance and reducing embodied carbon
Available in 24′ lengths and 22 woodgrain finishes with a full selection of powder-coated colors
Non-combustible
Anti-graffiti coating
Zero long-term maintenance; won't rot, warp, peel or fade
100% recyclable
AAMA 2605 certified powder coatings demonstrate a 500% improvement over AAMA 2604 in the critical areas of color and gloss retention